Digital
Wallboards for

manufacturing
Pingview allows frontline workers to enlighten their data to better efficiency, team performance and operational excellence.
CONNECTED TO YOUR EVERYDAY APPLICATIONS

solution









Discover Pingview in less than 2 minutes !
One solution for everyone
Pingview is as diverse as your needs. For shop floor management, Logistics 4.0, lean manufacturing, Customer service, corporate digital signage, and much more.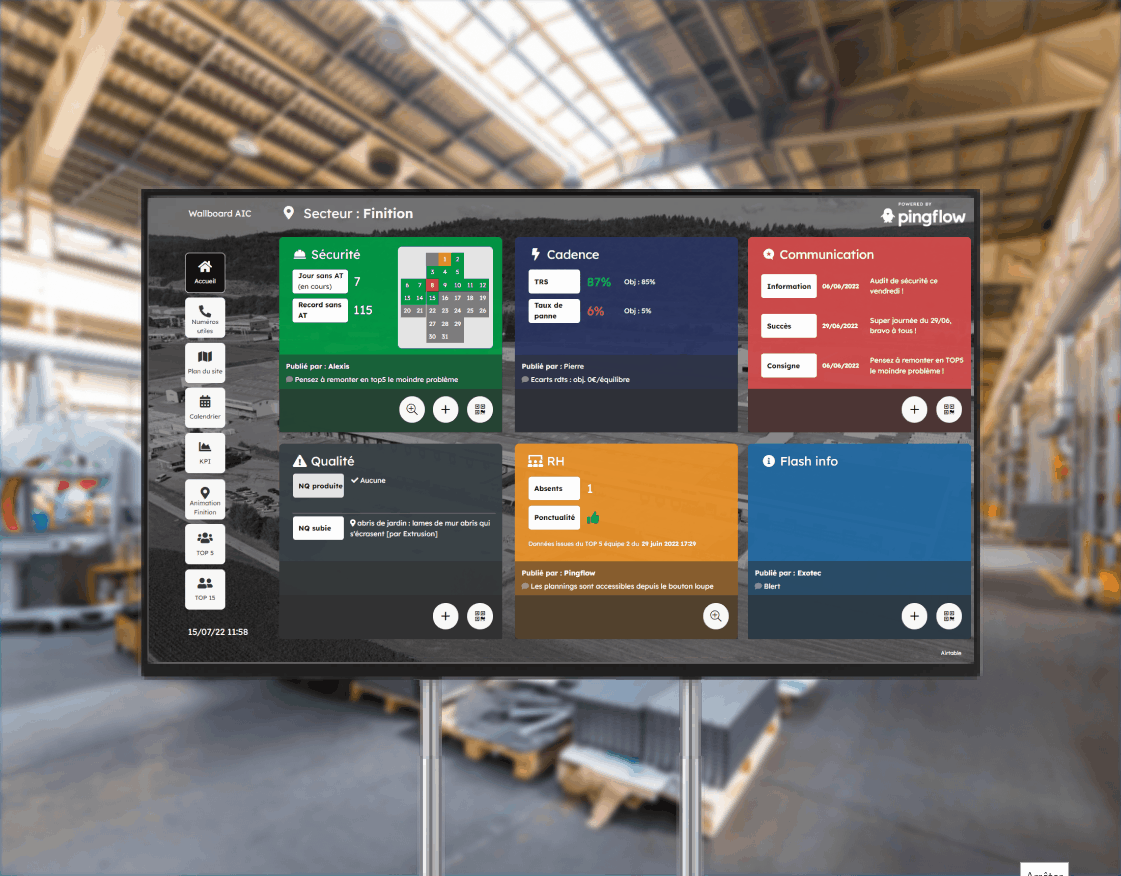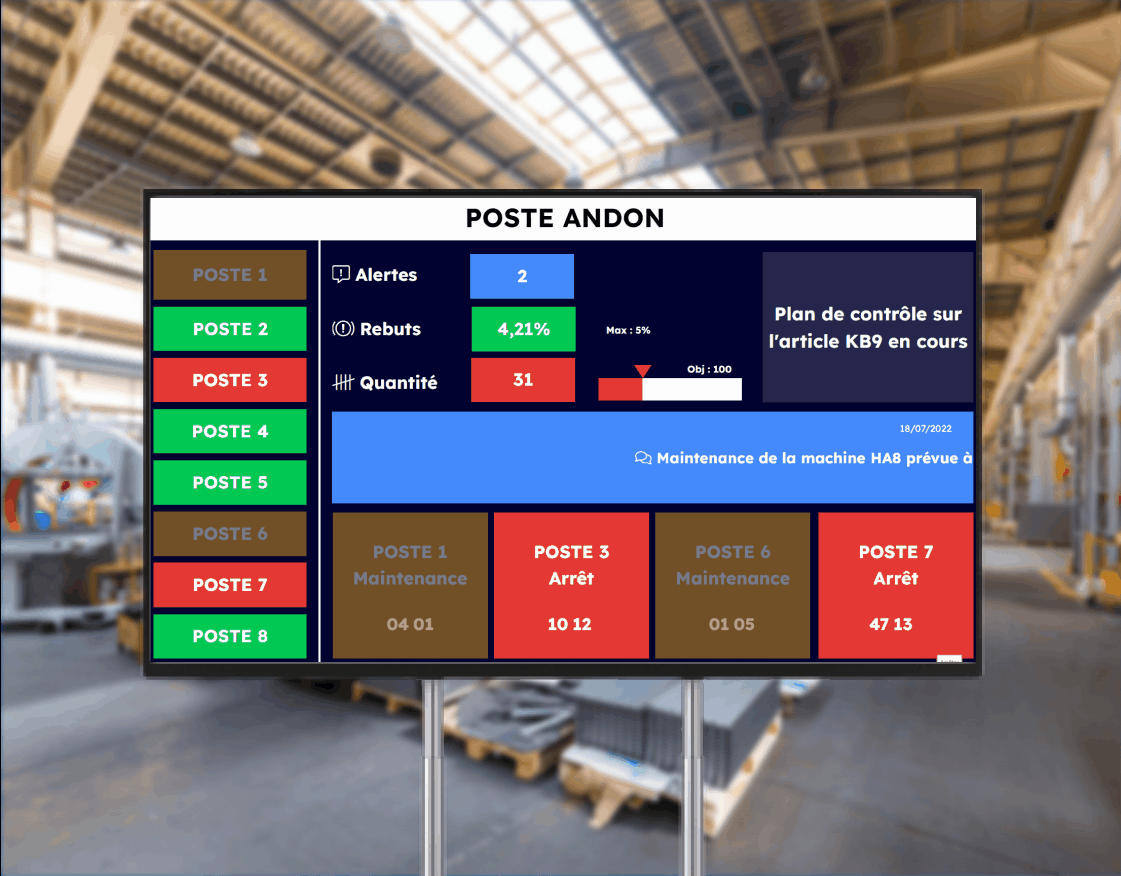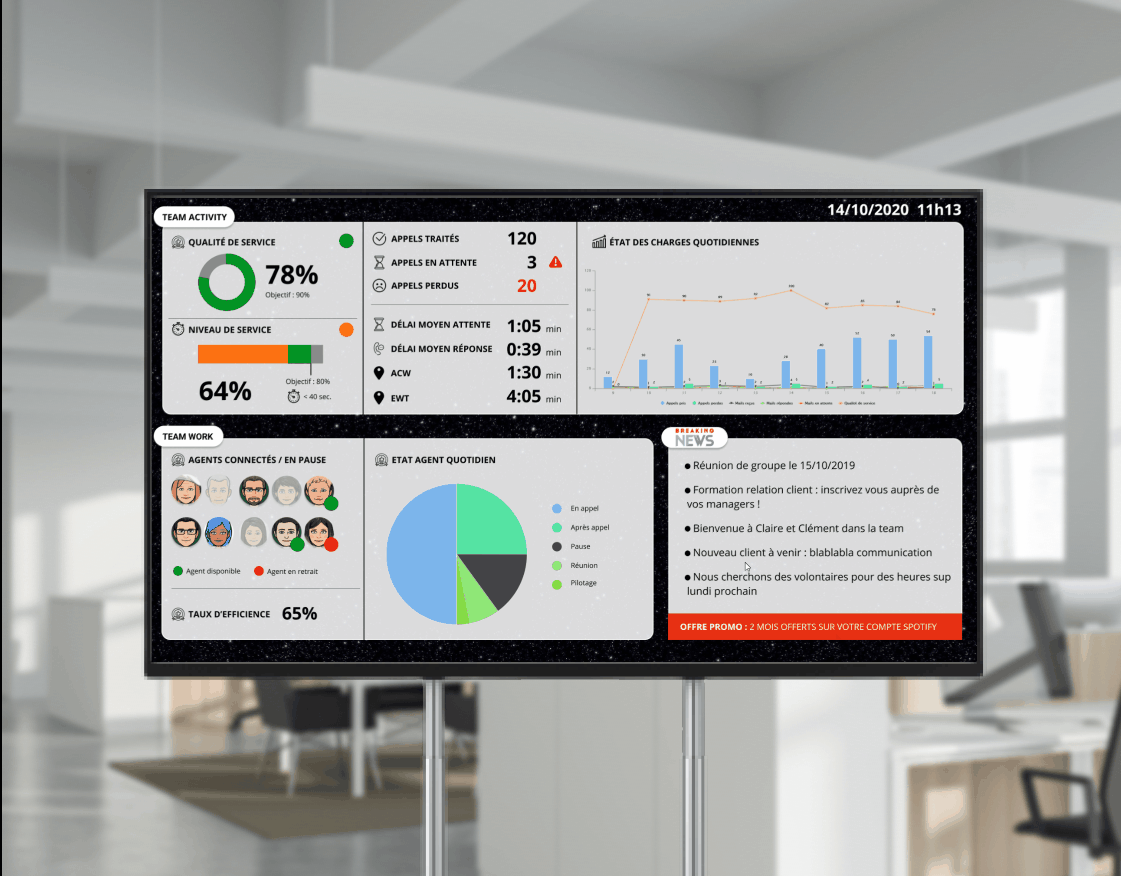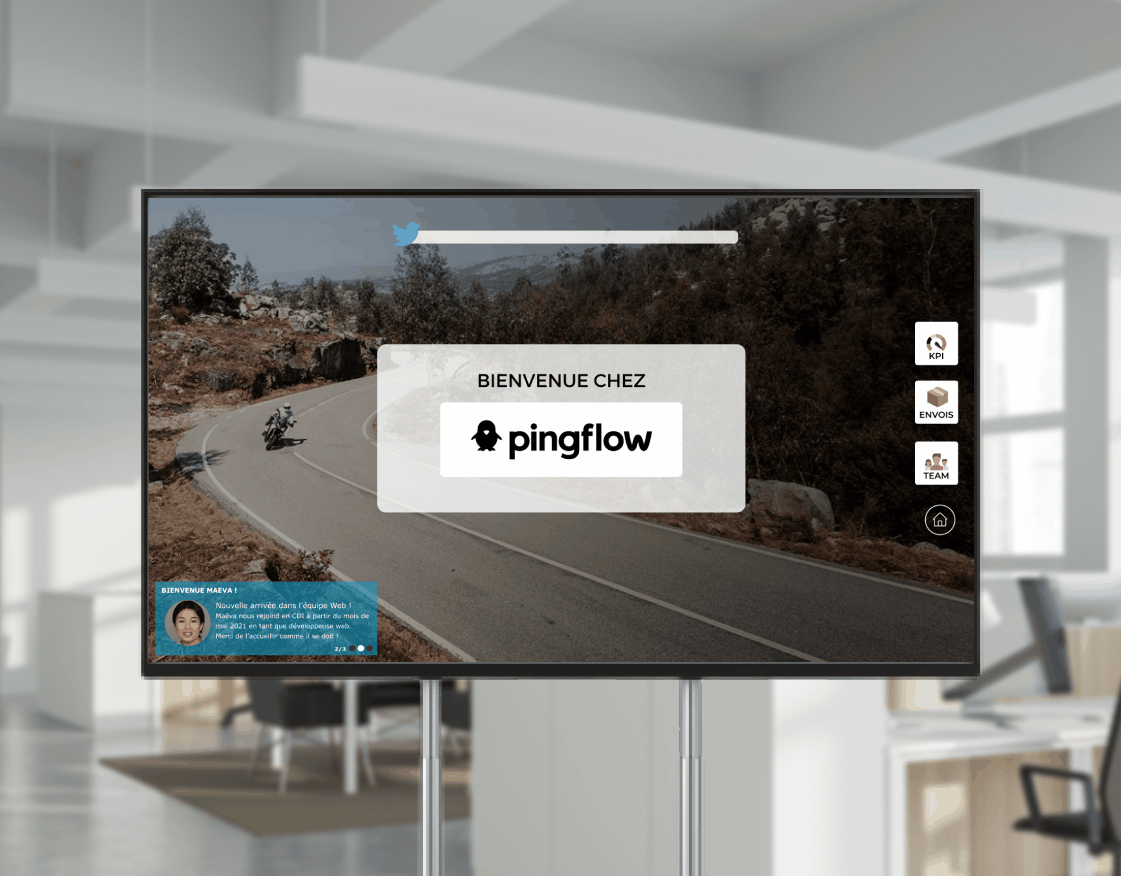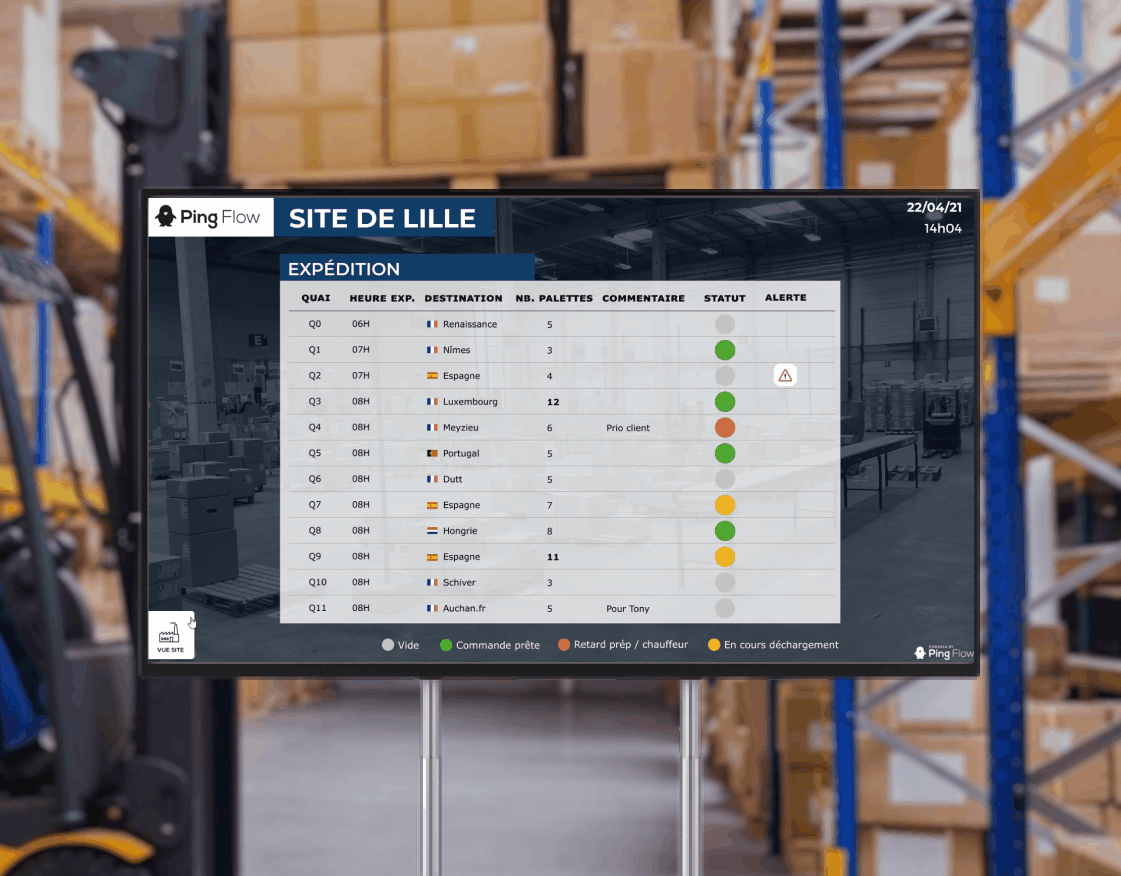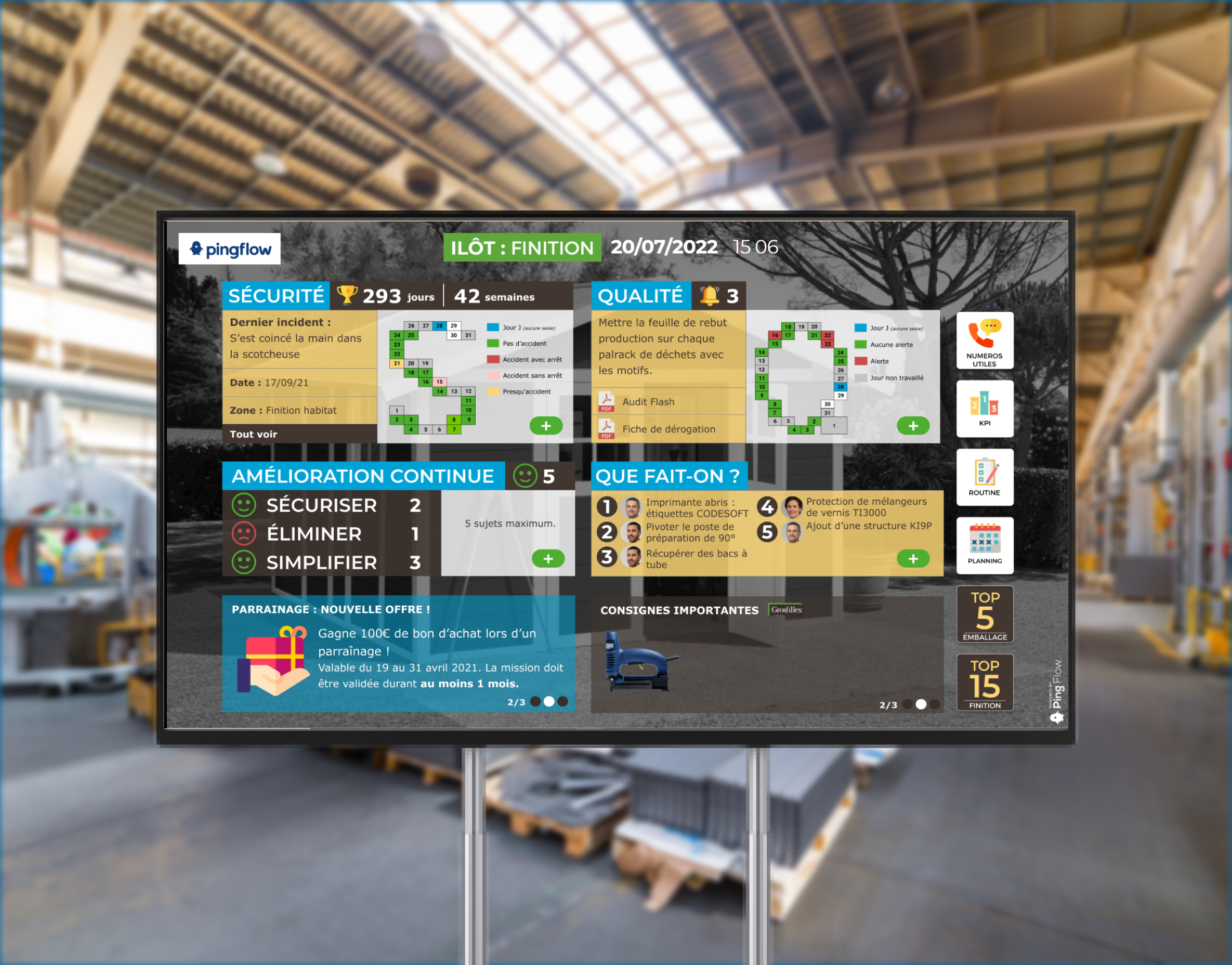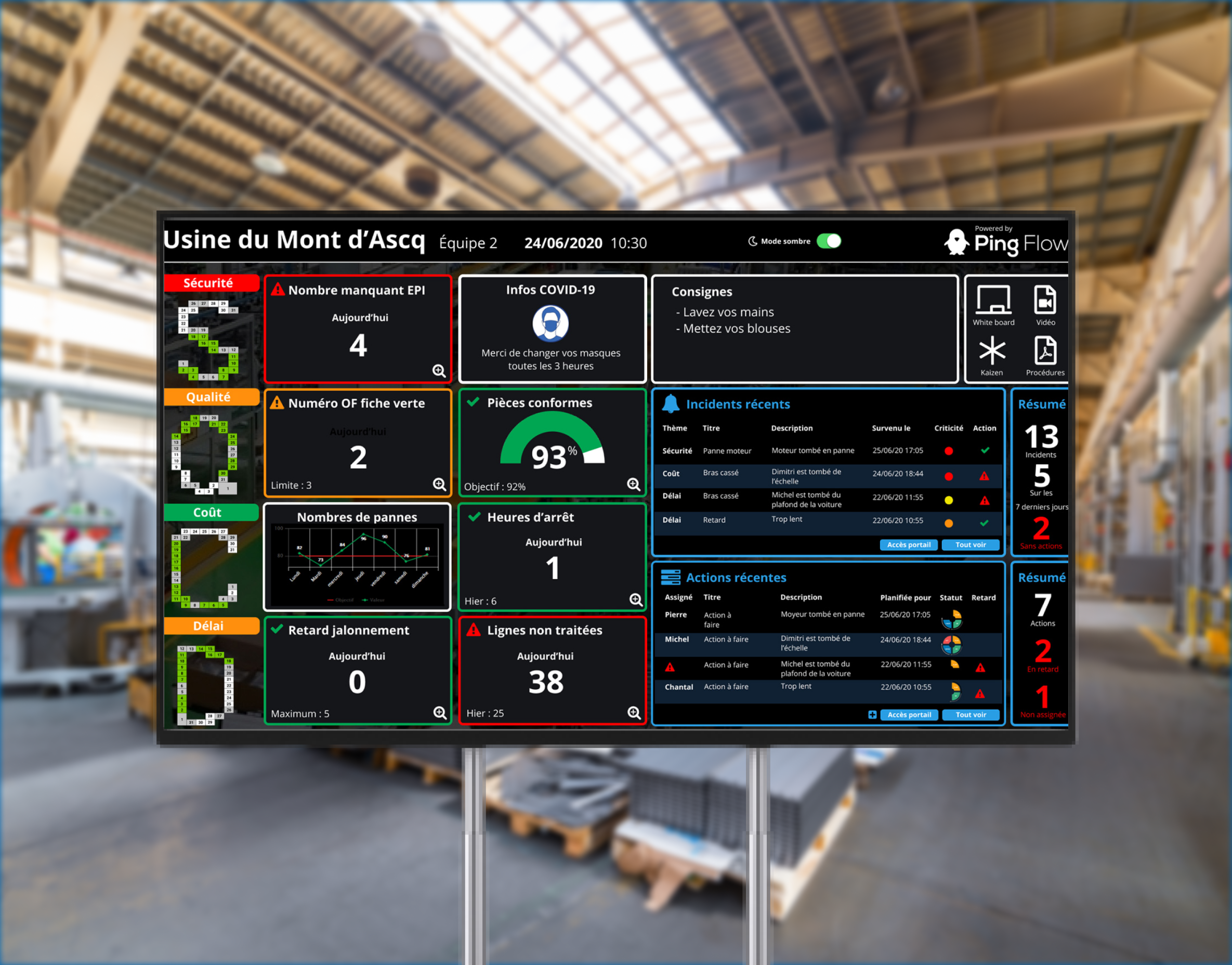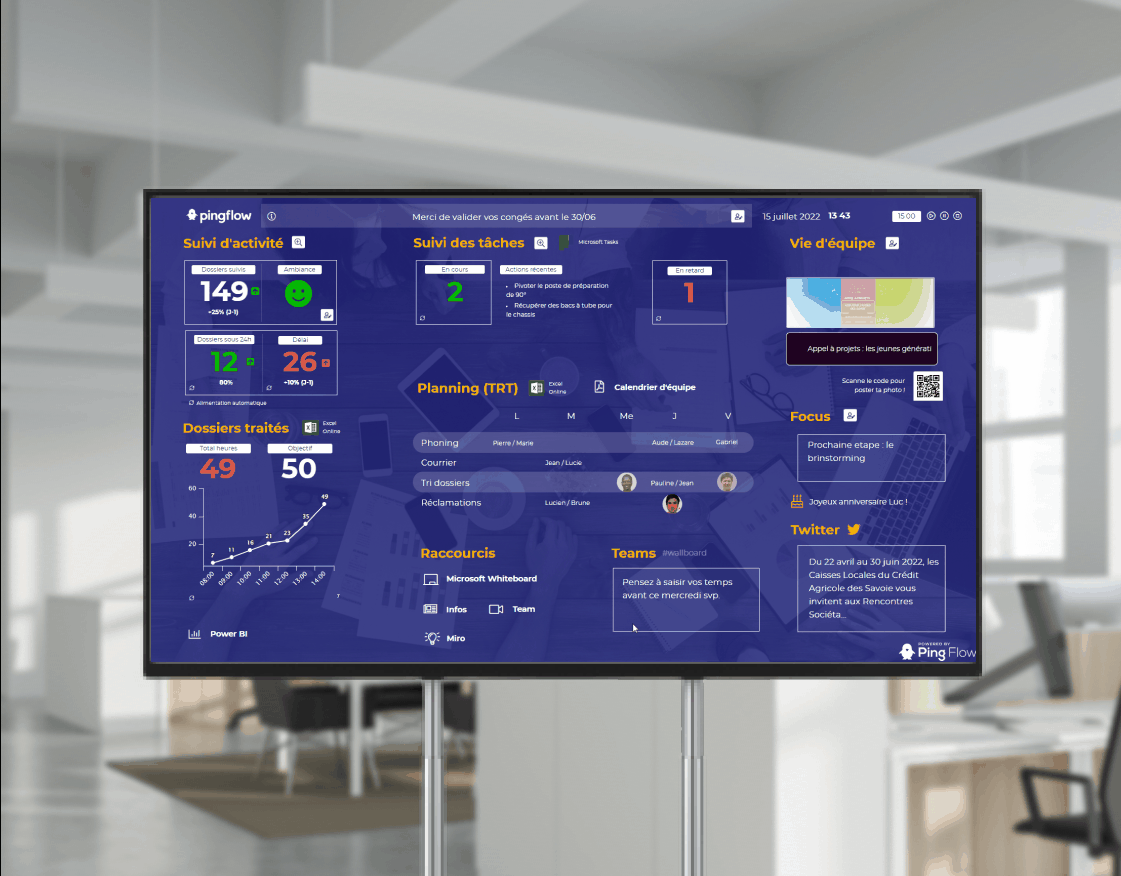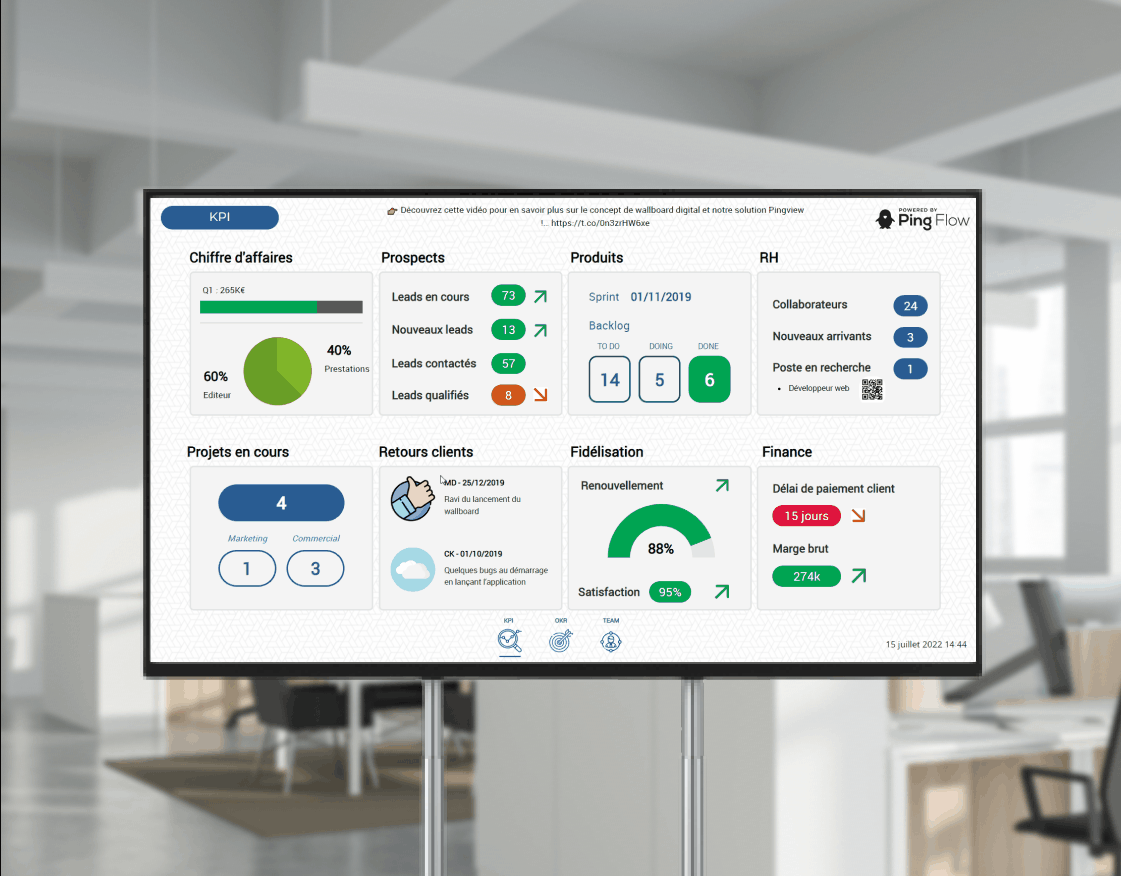 Designed for a large number of digital displays
Multi-site, multi-screen, and multi-language management is provided in Pingview for large screens, tablets or remote display.
We have developed an add-on, Pingplay, to make it easier for you to manage your displays remotely.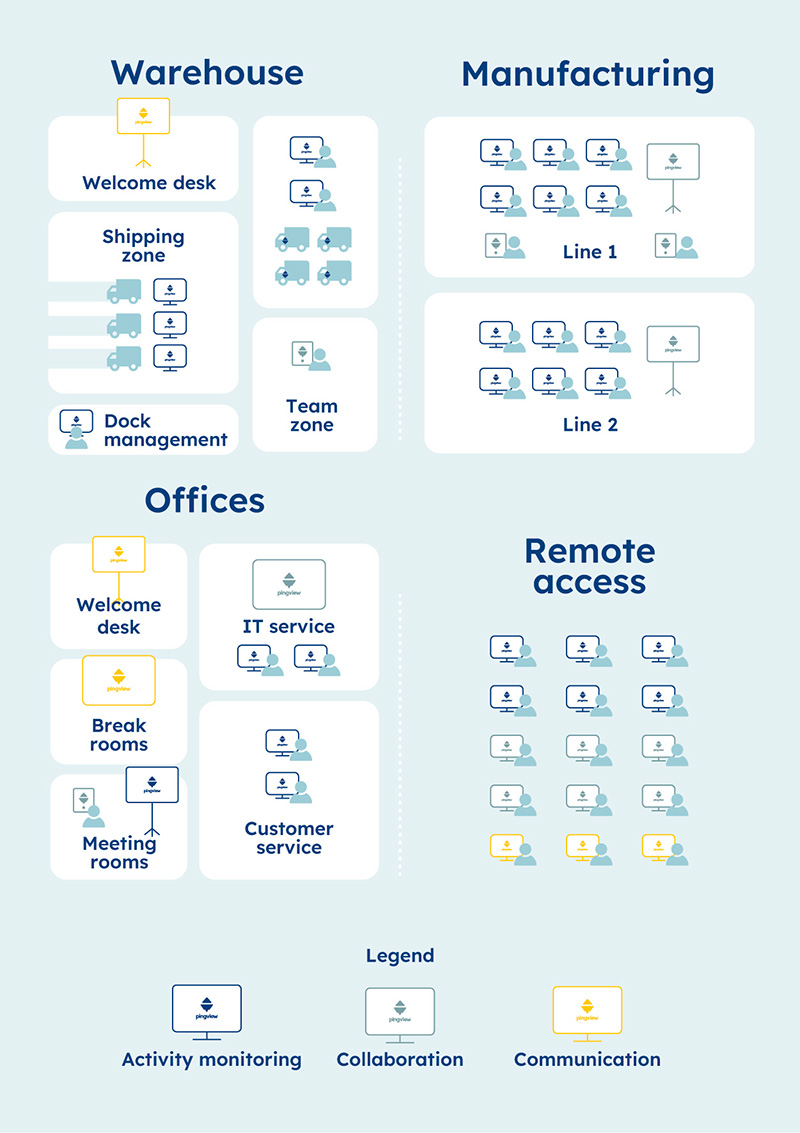 Connect , customize , display !
The time has come for companies to use and synthesize their flow of data in clear, accessible, and useful forms for everyone; using it to drive their daily management. Whether decision-makers, managers or front-line employees, "data-driven" management allows informed decisions based on immediate, real-time info while integrating with all aspects of the business.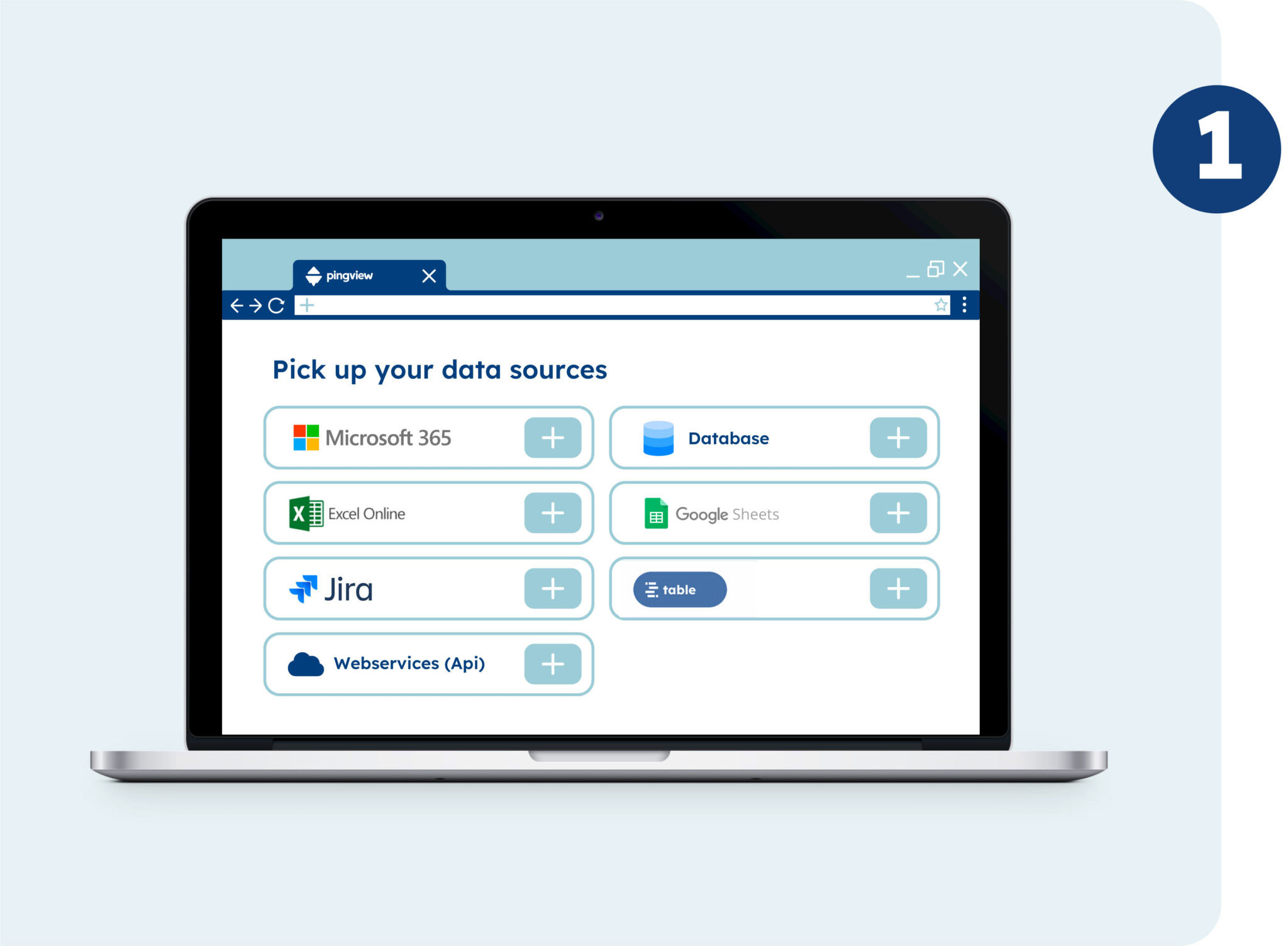 Connect multiple data sources thanks to pre-established standard connectors!
Feed your wallboards with real-time data with a various set of data connectors ! Select the refresh time per datasources
Perform processing modes (filter, aggregation, calculation) to transform ready-to-use data !
The agility of Pingview allows you to visualize your data clearly through connected and dynamic visual wallboards.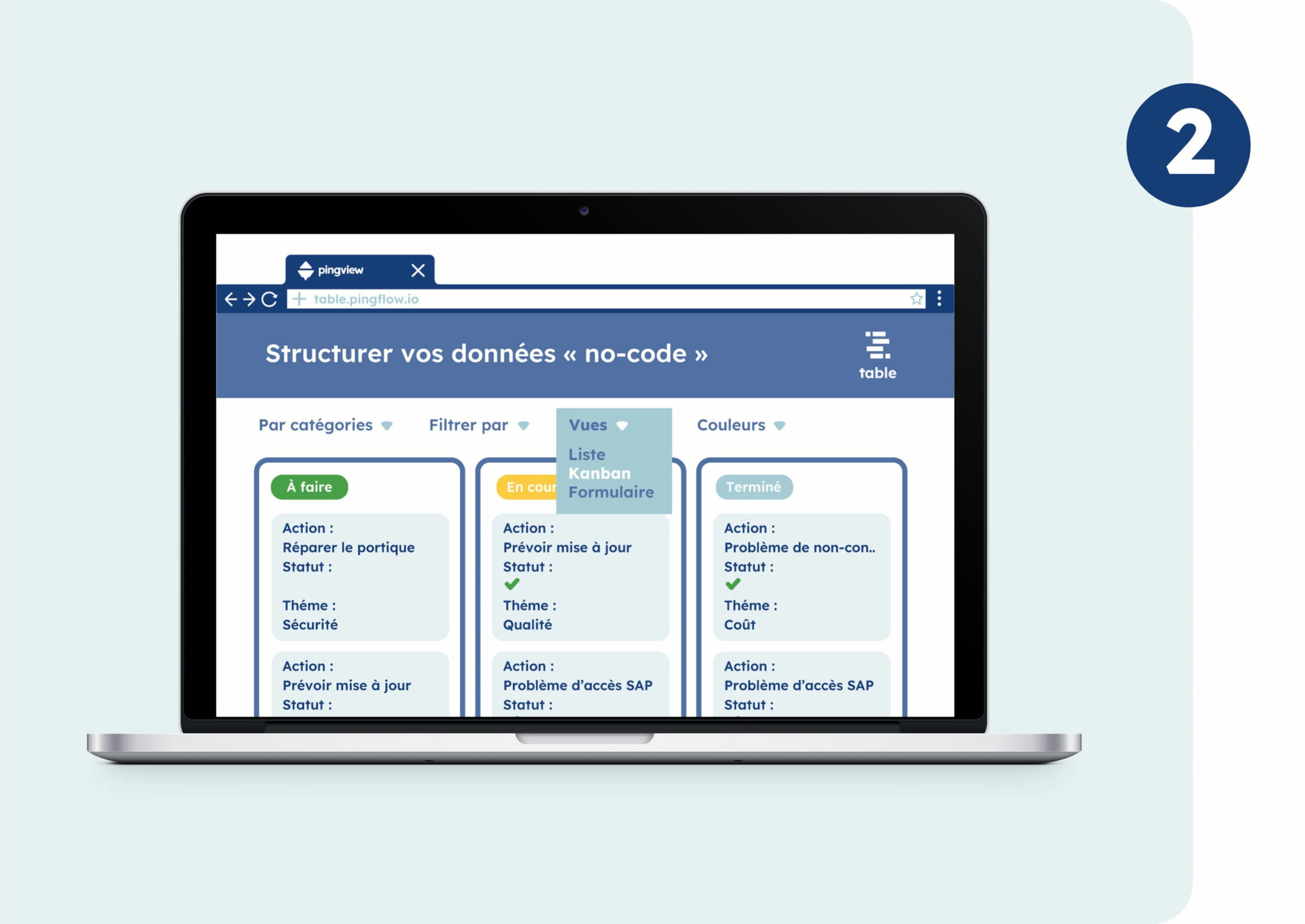 You connect Table, your "no-code" database.
What is table :
a structured and collaborative "Excel",
a smart form builder,
list, kanban, form views with filter conditions.
In short, it is the cockpit of all the future data-driven applications of your organization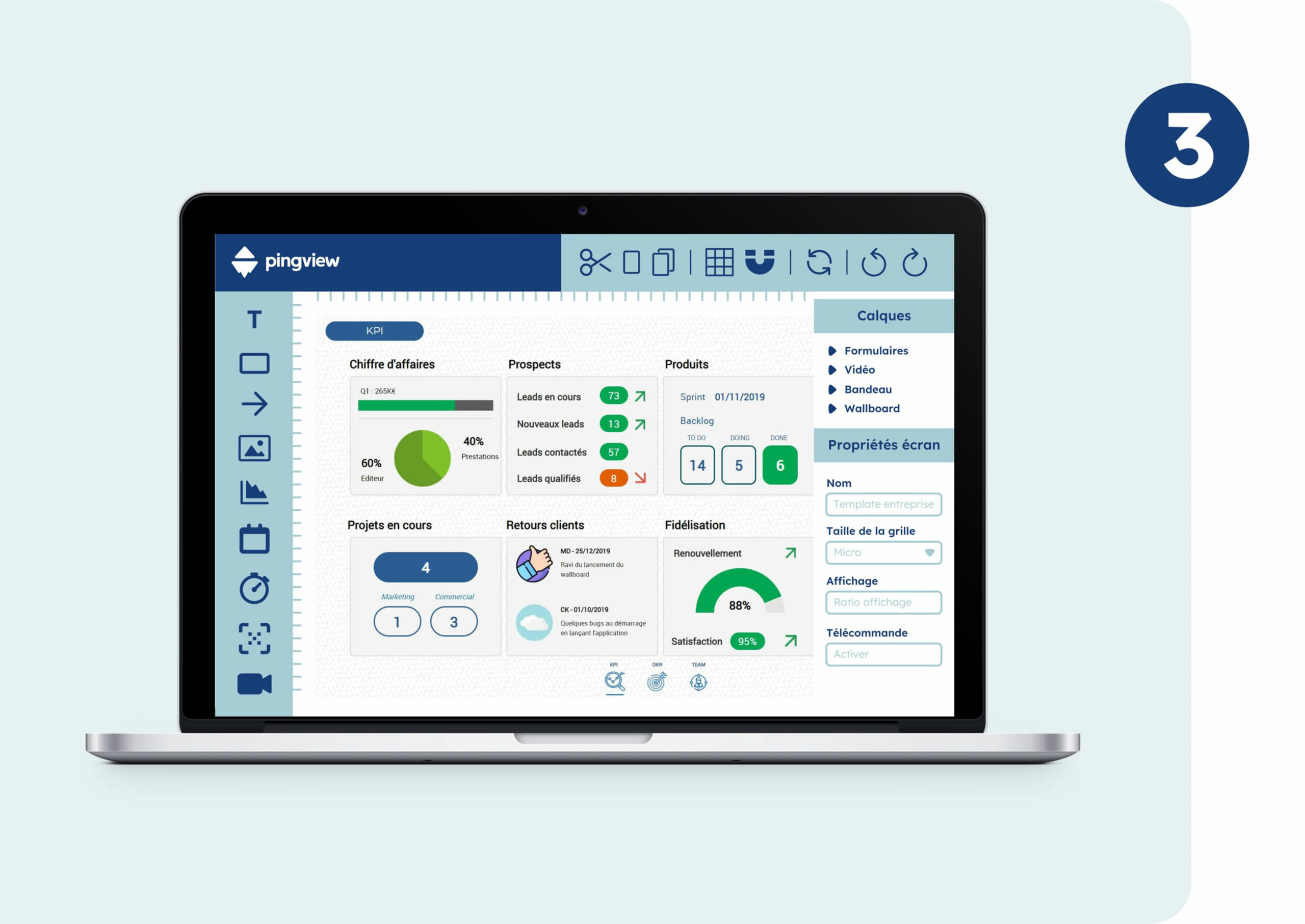 Create compelling wallboards in no time, without being a UX designer.
Easily design your customized wallboards via drag & drop of widgets.
Add logic conditions for dynamic display so that it can guide your decisions (ex: blinking, appear, change of color…)
Make it interactive ! create a touchscreen UX/UI interface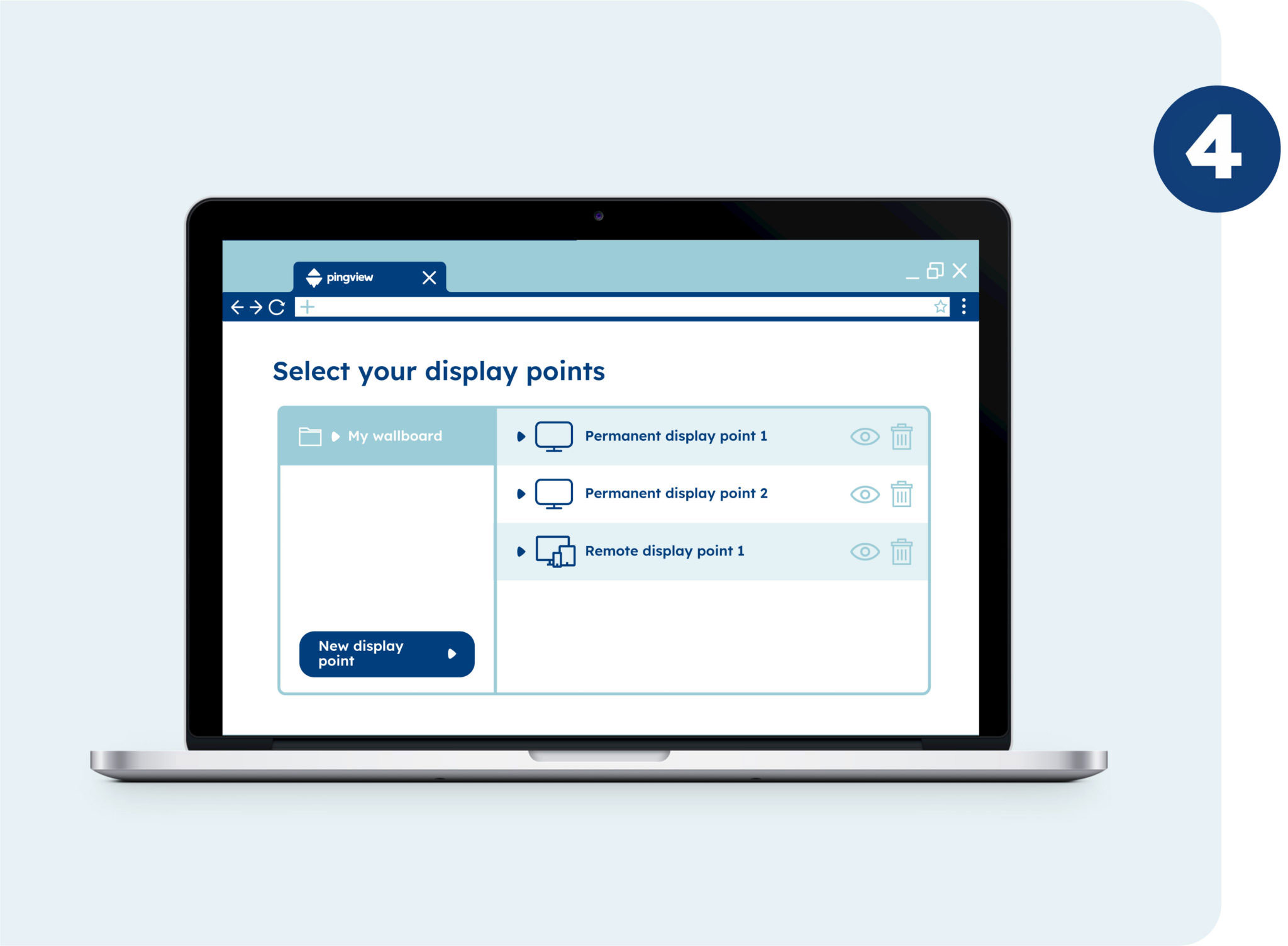 Create display points for large screens or remote access to display your wallboards.
Pingview is designed to communicate with an unlimited number of screens in real-time from big interactive screens to remote access via computer or tablet
Display your content with automatic or punctual scheduling to always be effective
Pingplay is the platform that allows you to manage all the players on your screens remotely, with a clear view of the status of each screen and the content that is broadcast there.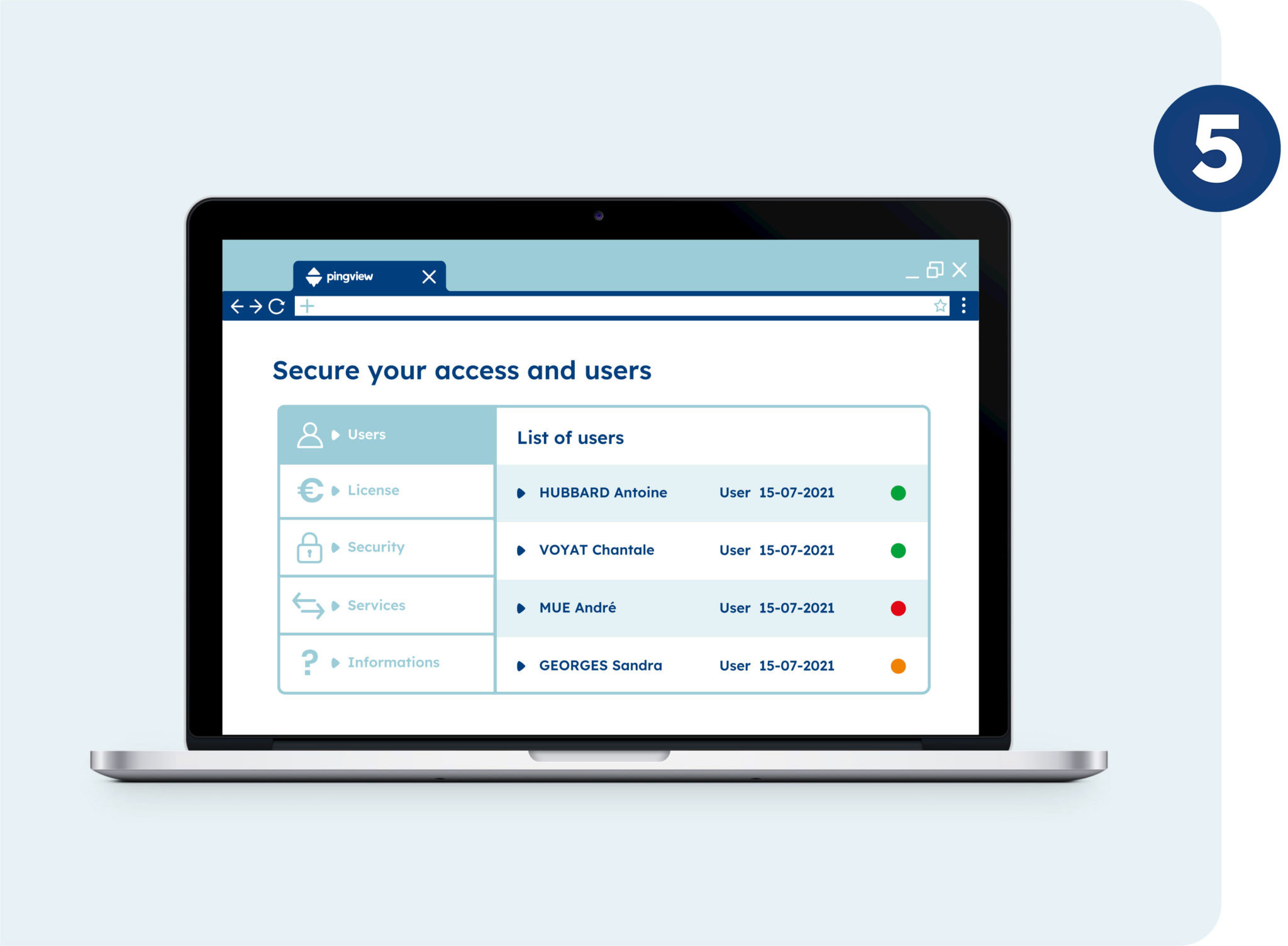 Manage your access and users
Control access to the solution, role, user level through the administration interface.
Secure SaaS hosting via Microsoft Azure. An SSO connection is available on Ms Azure and Google.
Flexible authentication: several security options for the display of wallboards: restriction by IP address, password, user authentication, or by cookies.
An ultra-secure digital safe to protect your data source access tokens.
Pingview add-ons unleash the power of the solution with specific features to add value to your digital visual management project.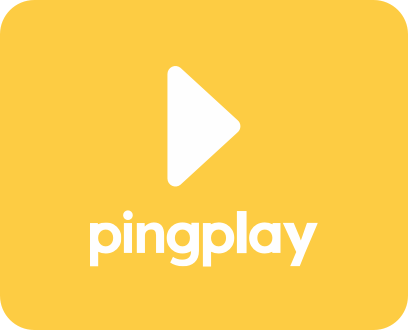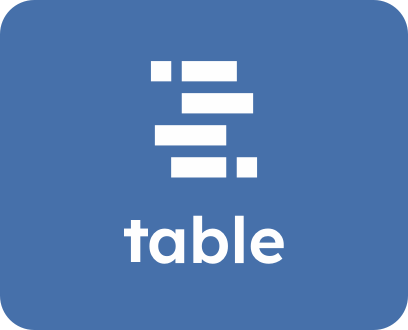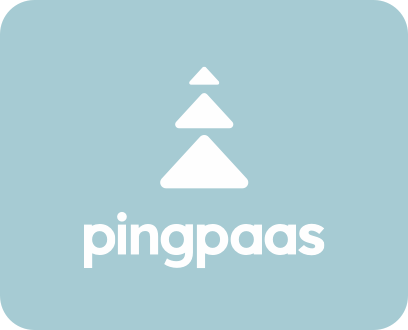 SECURE PLATFORM
TO TRANSFER
ON-PREMISE DATA
TO THE CLOUD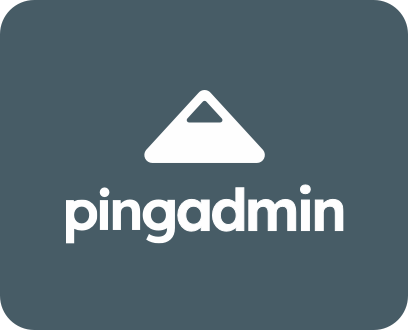 ACCESS AND USERS SECURE Management
Discover Pingview and digital wallboards


TOUCH INTERFACE: POSSIBLE NAVIGATION IN THE ZONES OF THE WALLBOARD

REMOTE ACCESS:
DEDICATED TO REMOTE WORK OR FOR MULTI-SITE MANAGEMENT
We assist you in your digital journey
Our team is composed of experienced professionals to drive your digital visual management project.

Understanding the needs 
Goals definition
Workshops & Prototyping

Wallboard and data configuration
Connectivity and Synchronization of your data 
Implementation on your sites

On-site or remote training
POC phase with weekly follow-up
Ticket platform and responsive tracking

Dedicated project manager
Continuously new features
Quarterly usage monitoring
We had a somewhat paradoxical need: to develop a common base of connected screens dedicated to internal communication on our production sites, but then leave the freedom to local teams to supply them as they wish. At this level, we have only found Pingflow to demonstrate such flexibility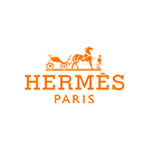 Our connected flowboard is a real success: from top management to production operators, absolutely all users give us positive feedback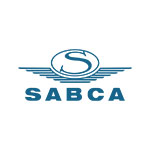 Pingflow is a reactive and strong team! They were ultra-responsive and proactive in designing the logistics monitoring wallboards we needed in record time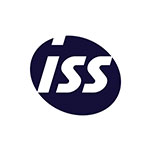 WHAT ARE THE TYPES OF DATA CONNECTORS AVAILABLE?
We have a set of standard connectors to synchronize data sources, by API (webservices), database (SQL, mySQL, …), and simplified connectors with Microsoft 365 (Sharepoint, Excel, Task, Teams, …) and Google (Sheets, drive, …)
WHAT IS A DATA SOURCE?
Data sources represent the different sources of data that connect to a wallboard. They correspond to API and files (.csv / .xml / .json), databases (SQL,…) or to processing on sources (aggregation, calculations, filters, etc.). Each declared source can be used in several different wallboards (and counted as a single source).
HOW DO YOUR LICENSES WORK?
The licensing model is based on the number of display points (screens), with a minimum of 5 display points (starter pack) . Licenses are billed annually, except during the POC phase.
Depending on your needs, additional options are available. Contact us for more information
WHAT IS THE DIFFERENCE BETWEEN A PERMANENT AND REMOTE DISPLAY POINT?
The permanent display point is for TV screen use. You can distribute several wallboards in a row on the same permanent display point. It is possible to display wallboards via recurring schedules (every Tuesday, every day from 11 a.m. to 12 p.m.) or ad hoc schedules. The remote display point is a temporary token-type access for remote access (eg remote work ) from PC or tablet. A request for a reconnection arrives after 10 minutes in order to release the token in case of inactivity.
HOW TO BROADCAST THE WALLBOARD ON A SCREEN?
Simply display the URL of the PingView permanent display point on the screen, either directly in the browser or via a box equipped with the PingPlay solution. PingPlay allows you to remotely manage all the players connected to your screens by having a clear view of the status of each screen and the content that is broadcast there. Integration with the PingView solution ensures you always have up-to-date content.
DO YOU PROVIDE HARDWARE (SCREEN, PLAYER, ...)? CAN WE USE OUR EXISTING SCREENS?
Yes, we offer screen and player hardware adapted to your needs. The PingView is a web solution compatible with any hardware. You can therefore use your existing screens and add a PingPlay box if necessary.
IS PINGVIEW HOSTED IN SAAS OR ON PREMISE?
Pingview is a secure SaaS solution hosted on Microsoft Azure.
How can pingflow assist us in the project?
Our experts assist you in the project process with a Proof of Concept (POC) phase. From the creation of the prototyping to the integration of the wallboard, our team supports you in the launch of the project. You can become autonomous on the solution after a training session.
Get inspired by our resources to learn about our best practices, better understand the use cases of visual management , and drive your organization with "data driven" teams.

OUR eBooks ARE THERE
TO HELP YOU
Take the time to read our guides and ebooks to learn more about digital visual
management.

You want to set up a visual management project within your company, but do not know how to go about it.
INSPIRE YOURSELF FOR
YOUR WALLBOARD
All our articles to find out more about wallboards: industry 4.0, "data driven" culture, visual animation, "digital workplace" …
Starter pack
 permanent display points
5
Permanent DISPLAY POINTS
5
REMOTE DISPLAY POINTS (TOKENS)
5
PINGPLAY LICENSES
(REMOTE SCREEN MANAGEMENT )

Unlimited Wallboards & key users
More display points
(on demand)
Every customer has different needs that sometimes can't be answered by a one-size-fits-all plan. We work closely with our customers to price and package the most effective offering for their needs. Please contact us if this is the case.
Are you on standby or about to launch a project related to digital visual management?
Answer the few questions below and we will get back to you as soon as possible to discuss and provide you with a budget estimate.