For a few months now, you have been carrying out a digital visual management project. Your teams are delighted and your peers are starting to show interest in deploying wallboards in their departments. You even feel a hint of jealousy appear in other services not identified as users.
So why not become an "ambassador" of visual management? In this article, we show you the advantages of promoting it around you.
Create a modern and innovative internal image
Very often, visual management projects start in a fairly compartmentalized way. This often starts with production for industrial companies or communication and human resources in the tertiary sector.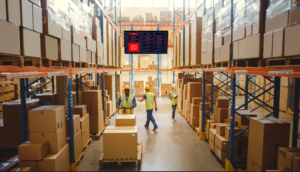 However, all trades can be affected by these visual management panels. You can therefore, by highlighting the project and the results of your department, set an example for your colleagues and present to them the expected benefits. And they are many !
For logistics, the screens make it possible to anticipate delays and better allocate resources. The DSI, for its part, will gain in responsiveness and performance. To discover all the benefits and concrete ROI of visual management by function, we invite you to consult our white paper.
This project gives you a modern and innovative image within your company. This proves that you are on the lookout, that you seek to constantly improve yourself and that you are not satisfied with what you have available. This attitude is certainly present in many employees, so do not hesitate to exploit it to encourage them to do the same.
Promote your wallboard project to your peers
Visual management projects are also very interesting to promote externally, with your network. Already, because it enhances the company in which you operate, but also, because it establishes your role in the transformation of your organization. Today, digital technology is a guarantee of excellence to promote to your customers. This is the case, for example, in the aeronautics sector; many companies highlight their digital equipment to enhance their operational excellence approach. It is therefore necessarily a plus for your future.
For effective promotion, you can provide feedback on the publisher's site, as we do at Pingflow, on your site or directly in the press, you can also talk about it on social networks. The best is to participate in user clubs. This allows you to talk about your project, but also to discover other uses and share good practices. At Pingflow, we organize Pingclubs where our customers, whether industrial or in the tertiary sector, meet to discuss during presentations and during interactive workshops. Check out our video about it.
The fact of exchanging regularly internally, as well as externally, around your wallboards encourages you to constantly evolve them to meet different expectations and to stay at the forefront of innovation.
You thus bring your screens to life, and continue to animate your teams ever more effectively. You thus prove that it is not simply a fashion effect, but a plus for your activity.
Download our whitepaper to learn more !